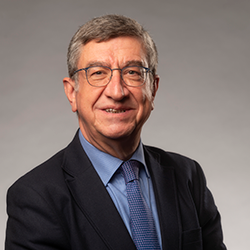 COPE collaborator and partner at Kreab España
President of the Universidad Europea Advisory Council since 2013.
He has a bachelor's degree in Information Sciences from the Universidad Complutense de Madrid.
Over the course of his career, he has served as director general in Spain for the Movistar TV channel "Non-Stop People", News director for Canal+, CNN+ and RNE; in addition to deputy director for News at Antena 3, founder of the show "Los Desayunos de TVE" and director of the talk show "Cara a Cara" (CNN+). Currently he collaborates on the COPE program "Herrera en COPE", and he has been a partner at Kreab España since September 2020.
He has been Director of Communications for Loterías y Apuestas del Estado, AENA, Banco Popular, and Azvalor Asset Management, as well as having held other positions at a similar level.
Academic who founded the Spanish Academy of Sciences and Television Arts and is a member of the Association of Communications Directors and founding member of the Association of European Journalists. He has received three Premios Ondas awards, three Antenas de Oro, and the Salvador de Madariaga Prize, together with other accolades.